Essential oils in star cuisine
"Weird but wonderful." This was the headline for a column by Heston Blumenthal in the British newspaper "The Guardian" in May 2002. This top chef and owner of the three-Michelin-starred restaurant The Fat Duck published a series of recipes that didn't seem particularly appealing at first. Blumenthal wanted to show two seemingly randomly selected ingredients can complement each other wonderfully – provided you leave your prejudices behind.
Sieh dir diesen Beitrag auf Instagram an
One of these combinations was a jelly made from beetroot and green pepper with a mango and pine puree. About this he wrote, "The latter may sound strange, but if you think about it, mangoes have a distinct hint of pine." Making it was as simple as can be: Blumenthal just added Douglas pine essential oil to the mango puree. This oil appeared to be part of his standard spices for a while. He also used it for, among other things, his vanilla pine sherbet dip dab, a reinterpretation of the classic British candy in which a lollipop or licorice stick is dipped in a kind of sherbet powder. Blumenthal served the dish as a precursor before serving the mango puree dessert mentioned earlier.
"Beside the fact that it's delicious, the reason why I did this is that we usually associate pine with scent, not food. If we've already been exposed to it a few minutes before dessert is served, we learn to accept the taste of something our minds normally associate with household products. Then we can enjoy the dish without reservation."
Mix it – unmatched variety of flavors
»Essential oils offer an unmatched variety of flavors. Many aromas are not available at all or are difficult to get otherwise, for example iris or magnolia.«
SIGRID SCHOT, Hammond Bar
Bar owner Sigrid Schot has been working with essential oils for three years, initially to flavor oils and drizzle them over cocktails. Her six new signature drinks, inspired by works of art from Banksy works of art, are flavored lime cordial. For example, she uses geraniums for "Colourful Pain," ginster for "Butterfly Headshot" and ylang ylang for "Ballerina with action man parts."
6 TIPS for cooking with essential oils by Eva Fischer, certified aromatherapist:
1. Fine dosing
The rule of thumb is: Less is more! Take peppermint oil as an example: One drop is equivalent to 28 cups of peppermint tea. To benefit from the positive effects, the right dosage is important.
2. Work with toothpicks
It is best to dispense with a toothpick by simply inserting it into the desired essential oil vial and then stirring it around in the dish. Just one drop too many can make the entire dish inedible.
3. Always dilute
Essential oils (with a few exceptions) should never be used pure, that is, you shouldn't cook with them or drizzle them directly onto the finished dish. Thin out and mix 1–2 drops of oil with an emulsifier suitable for the dish, such as oil, cream, mayonnaise, sour cream, mustard, egg yolk, butter, honey, syrup or soy sauce.
4. Pay attention to who's eating
Just as babies, toddlers, pregnant women, allergy sufferers, the elderly or simply very sensitive people cannot tolerate certain spices, the same applies to essential oils. In this case, you have to do without them in part or in whole.
5. Use natural oils
Only 100% natural essential oils are suitable for cooking. Any other types may be misleading and include synthetic ingredients. Some manufacturers offer products made especially for aromatic cuisine.
6. Store correctly
Store the light and temperature-sensitive oils in a dark place and at no more than room temperature (ideally cooler). Usually they are already bottled in excellent light-protected vials.
Aroma expert Eva Fischer also shares her knowledge in cooking workshops.
Essential oils are also popular in the top pâtisserie
"It's always a support, not an only," says top pastry chef Eveline Wild, describing her approach to essential oils. This means she first flavors chocolate ganache and praline fillings with oil extracts, such as orange, lavender or rosemary, and only adds ready-made essential oils if necessary. If you use only the ready-made oil, she says, you could easily end up using too much otherwise.
»You have to remember that these oils are still following behind. Of course, the extracts have to be intense to keep up with the chocolate, but if a praline with rose or jasmine tastes like hand soap, we've obviously done something wrong.«
EVELINE WILD, Der Wilde Eder
HIGHLY CONCENTRATED ESSENCES
Using essential oils in the kitchen was a major trend in the early 2000s – a true hit among forward-thinking chefs like Heston Blumenthal or Daniel Patterson. Together with perfumer Mandy Aftel, the American top chef and multi-gastronomer published the book "Aroma: The Magic of Essential Oils in Food & Fragrance" in 2004. This book includes recipes for crab salad with coriander oil, artichokes with litsea cubeba mayonnaise, sea bass infused with rose, orange blossom pudding and chocolate with tarragon oil. Around the same time, Dan Barber was serving mushroom soup with porcini oil at his New York restaurant Blue Hill, while California chocolatier Michael Recchiuti was attracting attention with lemon verbena truffles.
Sieh dir diesen Beitrag auf Instagram an
Not all oil is the same
Today, with their own spice oil collections, companies such as Sonnentor and doTerra in particular are ensuring essential oils find their way back into the kitchen. The fragrant liquids, which are usually extracted from bark, roots, peels, leaves or other parts of the plant by extraction or distillation, are ideal for refining food and drinks or giving familiar dishes a new, more intense taste.
However, these are not necessarily the same oils that you would drip into a fragrance lamp. In most cases, those oils are produced synthetically and are therefore not suitable for consumption. Only natural and food-certified essential oils, ideally organic ones, are suitable for cooking, baking or drinks. It should also be noted that these so-called "seasonings" are not a substitute for other spices or herbs, but rather should be a supplement and additional way to add flavor and depth to a dish. This can be especially handy when a certain ingredient isn't available or only available in poor quality.
A HINT IS ALL IT TAKES
If you are cooking with essential oils for the first time, it is best to approach the subject by making marinades or seasoning oils. A soy sauce with citrus notes would also be possible, for example for fish and tofu dishes, or a flavored honey for refining desserts. The most popular essential oils are mainly citrus and herb oils, as well as cardamom, cinnamon, vanilla, cocoa and turmeric oils.
When selected and used correctly, the guest not only benefits in terms of taste, but also from the positive effects on the body and mind. For example, basil, rosemary or ginger oil has an appetizing and digestive effect, making them ideal for appetizers. Sage oil calms and makes rich food lighter. Pepper or citrus oil has a stimulating effect and makes you cheerful. When used in dessert, they provide a fresh kick before the final cheese course. However, like many things in cooking, essential oils are a matter of taste as well as trial and error.
COCKTAILS LIKE PERFUME
This is also true in the bar. However, just as in the kitchen, the oils should be used extreme caution. Bar consultant and sensory expert Reinhard Pohorec, who has also worked with renowned perfumers in Grasse in the course of his interdisciplinary research, strongly advises adhering to the recommended dosages in order to prevent poisoning. Once you've got that down, you can open up completely new worlds of taste to your guests.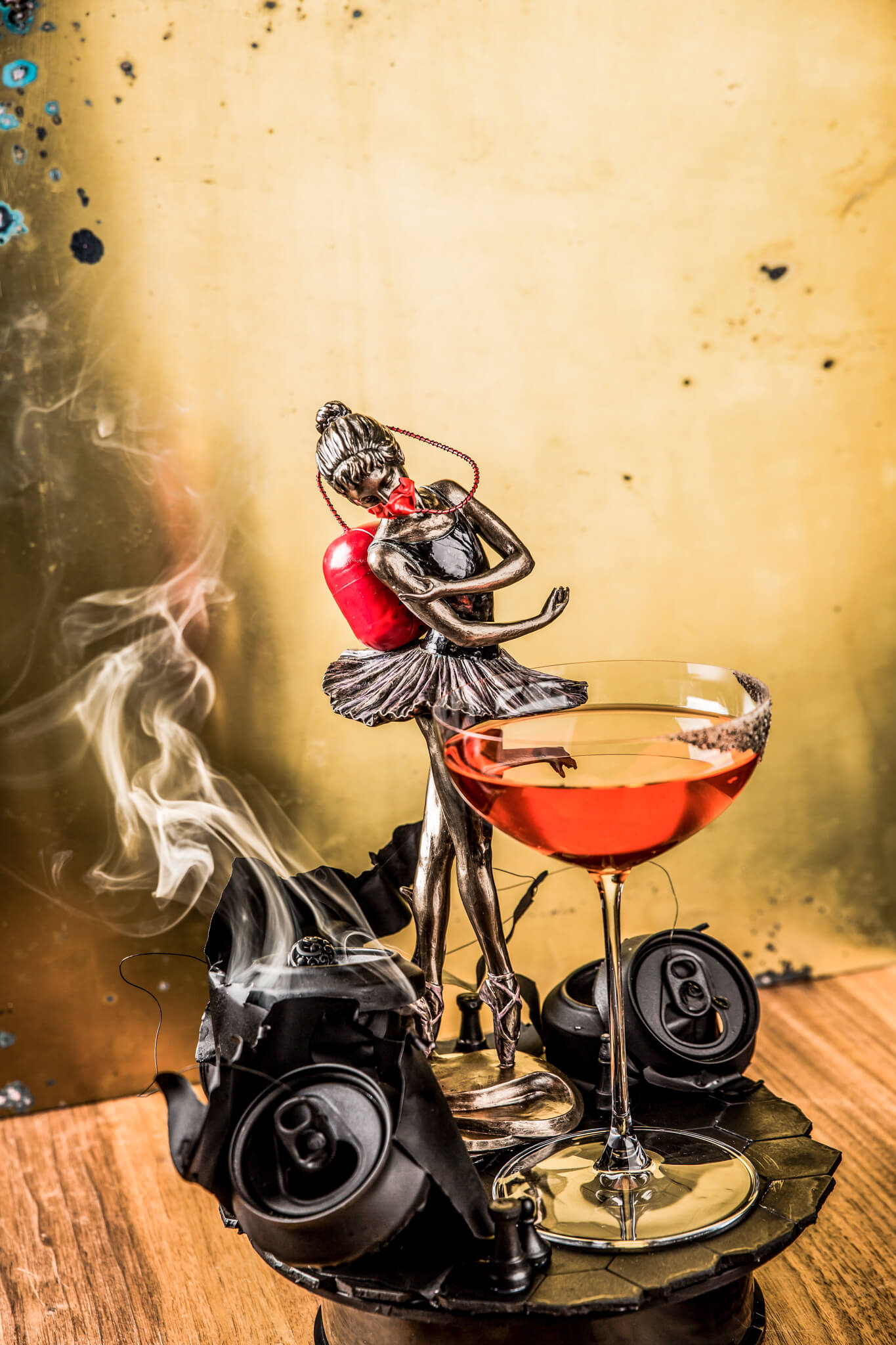 To ensure the optimal dosage and application of these poorly soluble oils, Pohorec recommends various procedures. For example, on the one hand you can work with emulsifiers or thickeners, such as gum arabic, which bar professionals should be familiar with thanks to gomme syrup. "But on the other hand, you can also make a honey syrup with essential oil or a flavor spray. By dissolving one or more oils in high-proof alcohol, you create a kind of perfume essence that you add to your drink of choice as a finisher."
A more complex approach would be fat washing spirits, while the simplest and most common form is flavoring drinks using zest. "Generally, you can work with single scents or compose a whole accord, similar to a perfume. Due to their weight, density and aromatic intensity, the oils change over time. This creates excitement and allows us to take a completely new direction with well-known cocktails."
However, the fact that one can overshoot the mark with all this love of experimentation becomes clear from an attempt made by Heston Blumenthal in 2007. He admitted his failure five years later to the food and dining platform Eater. "I once mixed goose feed with essential pine oil to see if the goose would later taste like a Christmas tree. That didn't really work."
Culinary use of essential oils is possible in many ways
»The aromas are always adapted to the main components of the dish:
With a lobster, for example, the guest gets the aroma "crustacean" and with mushrooms "forest floor".«
ANDREAS MAYER, Schloss Prielau
Sieh dir diesen Beitrag auf Instagram an
For his aroma menu, chef Andreas Mayer preserves the core note of individual dishes in the form of perfume essences. These are not incorporated directly into the food, but instead are applied to perfume strips and smelled by the guest before the dish is served to create a sensual, olfactory anticipation. Mayer has already distilled over 100 aromas, including lemongrass, horseradish, red beets, hazelnuts, thyme, pepper, chocolate and roast pork.
»I am a keen advocate of essential oils, not only in my nose, but also in culinary terms. Just a hint is enough to round off the taste.«
MARIANE LEYACKER-SCHATZL, Die Eisperle
Sieh dir diesen Beitrag auf Instagram an
For her vegan ice cream creations, Mariane Leyacker-Schatzl relies on the combination of fresh herbs and the essential oils made by Primavera. She spent up to two years working on the recipes; there were no guidelines for use and dosage that she could have followed. Leyacker-Schatzl uses the oils for her lemon balm, cucumber lime, orange basil, mint and cinnamon stick ice cream creations, among others.
This might interest you as well: