Borna Bayat was the first European employee for Next Gen when he joined the company – headquartered in Singapore but with staff all over the world, a genuinely virtual workplace – in August 2021. Here he outlines the conception and evolution of the plant-based chicken, already present on more than 500 restaurant menus across the world.
What's the story with TiNDLE and how did the idea for plant-based chicken come about?
Borna Bayat: We launched in March 2021, so it's been around 15 months now. The brand was developed by Next Gen to offer a true chicken alternative to consumers to drive change, and ultimately help create a more sustainable food ecosystem and future. Meat is a key element of our diet across cuisines all over the world. But it does have a negative impact in the way we're currently sourcing and producing it.
TiNDLE is chicken made from plants, as opposed to chicken made from birds. The idea is to offer up a true alternative, that allows you to replace chicken in practically any dish while at the same time, allowing you to have the exact same meat experience, the same level of satisfaction that feeling of having a very savory, enjoyable meal, in literally whatever dish that you'd like to eat, but just making it a plant alternative.
What's the TiNDLE mission?
Borna Bayat: It is to change the food system and make it easy for people to make sustainable choices. It's not to teach everybody to be vegan, but it is speaking to all food lovers – including meat eaters who might just want to have a plantbased option from time to time.
The idea is to make sure that eating plant based becomes something you really enjoy ; not something to be endured because you intellectually get that it's better for the planet. And thats why we will never compromise on the flavour experience of TiNDLE.
What is TiNDLE made of?
Borna Bayat: It's made out of just nine ingredients. The core protein is from soy and other ingredients include water, oats, wheat, sunflower oil, coconut oil, and a culinary binder. And "lipi" our trademarked flavour profile, which is the essence of chicken fat made from plants. It is Lipi that gives TiNDLE the taste, aroma and cookability of chicken. In the development process we realized this is vital to carry the flavor, but it's also what helps the browning process and so we completely recreated that from plants. It's kind of our secret sauce, but it's ultimately creating flavor out of natural ingredients such as aliums and salt.
Is the purpose of TiNDLE to imitate chicken or provide an alternative?
Borna Bayat: Think of it like an ingredient that can fully replace chicken in dishes, but with the aim of giving you that chicken satisfaction. So, it is the taste and texture, it is the mouthfeel, the way your tongue is coated. For our initial entry into the market through restaurants, we developed the product with chefs in mind.
Image: TiNDLE
Image: TiNDLE
Image: TiNDLE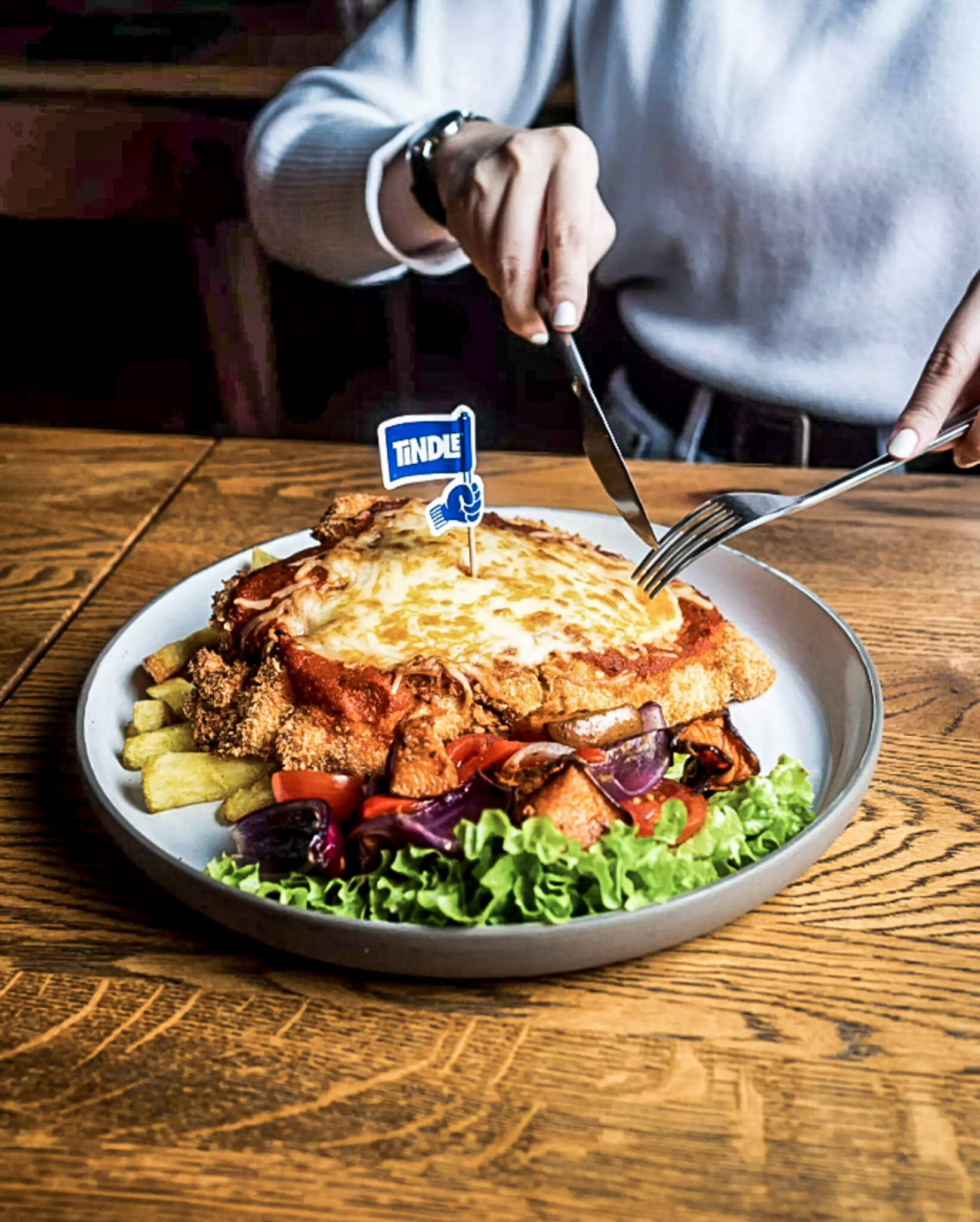 Image: TiNDLE
It has the same versatility as the chicken; it can be used in multiple cuisines and all sorts of cooking applications, from stir fry to dumplings or grilled on skewers. It is a very versatile protein. Initially it is malleable – a bit like a dough – and you can work flavour, spices, marinades, into it. Once heated and depending on how you cook it you see the texture, crispness and firmness of chicken.
How long has TiNDLE and the vegan chicken been in development?
Borna Bayat: The company was launched in the summer of 2020. So, the development went on for a year prior to launch, but the people behind have been in the industry for like 25 years. The Chief Technology Officer, John Seegers is the the genius behind the product. And he's been working in industry for multiple decades. TiNDLE itself was developed in 2020. We started in Singapore, and we are constantly launching in new places. We are in over 50 cities worldwide and in over 500 restaurants now, having just had a phenomenal launch in Germany across 40 new restaurant sites.
Who do you work with?
Borna Bayat: We work with different business partners. We talked to restaurant owners and typically also their chefs. Plant-based Chicken [is typically delivered] in pre shaped, often pre coded nuggets, or patterns or something which, which limits the way it can be used. What gets chefs excited is the fact that you can really do anything with our product.
Sieh dir diesen Beitrag auf Instagram an
We've had chefs who got extremely excited about it once they understood the flexibility of the product. For example, we had a chef who created a 3d printed mould, and then made a flower out of TiNDLE. Another chef did a play on Fried Chicken and Wafffles, a dish that is very popular in in the US and the UK. Instead of creating fried chicken and waffle, he actually created a chicken waffle out of TiNDLE.
Meat substitutes are often said to have too many artificial components in that. How do you deal with that?
Borna Bayat: Part of our design process was to say we didn't want to have 30 different ingredients, most of them that you don't know. Intead, we have nine straightforward ingredients. The only one that you wouldn't know, unless you are in the culinary industry, is methylcellulose, a vegan culinary binder. We list all our ingredients on the website because we want to be very transparent about it.
What differentiates TiNDLE from other vegan chicken substitutes?
Borna Bayat: First of all it is the taste and the texture. We offer a plant based chicken, but you wouldn't know it, unless we tell you, that's the number one. The other thing that makes TiNDLE truly different is that it is malleable, it can be marinated, infused with different flavors, sauces, spices, in any way you want.
This feature makes it easy to work with, and allows it to be center stage for any type of dish. There's no other product on the market that offers this.
The founders decided to start the company in Singapore, why?
Borna Bayat: Yes, it was founded in Singapore, which has a very strong infrastructure, as well as network and, overall, grounds for innovation in particular for food tech. The Singapore government in that sense was very forward-looking. It has invested in innovation, vertical farming, plant-based foods and so on. You have great talent there as well and funding for the space.
What kind of products are you developing now?
Borna Bayat: Some of them are more ready-to-cook items, such as patties and nuggets, and others allow more cooking variety in different kitchen setups. TiNDLE is our Rolls Royce idea, other innovation is being built on top of it.
At the moment TiNDLE is only available through restaurants. Are there any plans to launch in supermarkets?
Borna Bayat: Yes, the day will come. Right now it is about making sure people have that great first experience. Experiencing TiNDLE while enjoying the great food of our restaurant partners.
We want people to almost have an epiphany moment, where they realize what the product is and why they like it. To ensure that happens, people need to have a great experience. And the best way to ensure having that is through the hands of an expert. There are many people who are great chefs, but the majority of us don't have a lot of time.
This might interest you as well: